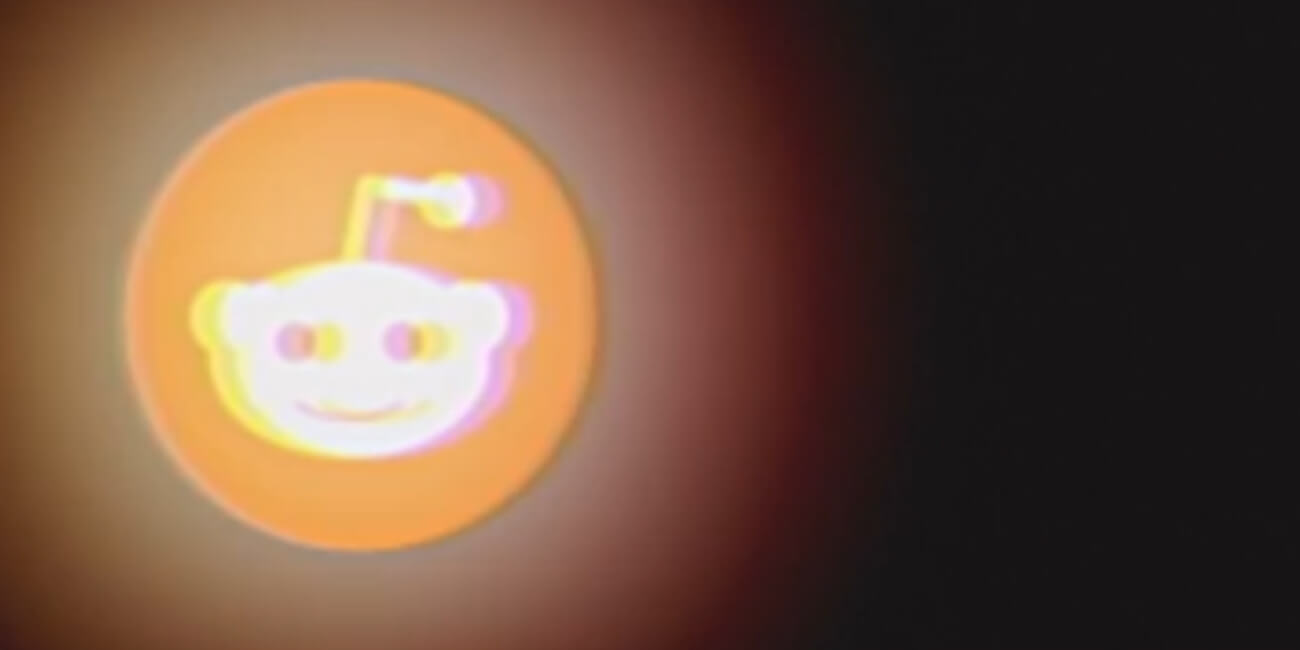 How to Broadcast & Stream on the Reddit Public Access Network (RPAN)
The Public Access Network (PAN) on Reddit is an emerging feature of the community websites commitment to user-created content, and it's pretty awesome..
In the week of August 19th, 2019, Reddit began testing a new feature of their website called the Reddit Public Access Network (RPAN)- a feature that allows users to create and stream live videos from their accounts via mobile device. The feature resembles user-created stories on popular social media sites such as Instagram and Facebook, which are often leveraged by brands to increase brand engagement. Perhaps more similar to IGTV, the Reddit Public Access Network is an always-on, live stream from the users mobile device, which viewers can watch and screen-swipe to move from one channel to the next. It's a pretty neat feature, read on to learn more about how it works.
How to watch the Reddit Public Access Network (RPAN)
To watch the Reddit Public Access Network, you must first be signed into your existing Reddit account. If you don't have one, you can sign up here. Once you're logged in, navigate to the Public Access Network subreddit: r/pan. Join the community by clicking the 'join' button on the side, and return to your Reddit home page. NOTE: You can sign up for r/pan and watch the Public Access Network from both desktop and mobile app version of Reddit, but you can only stream yourself from a mobile device (at this time). If you want to check your network speed, try a tool like www.speedcheck.org.
After you sign up for r/pan and return to your Reddit home page, you should see a live streaming video appear at the top of your page that looks like the screenshot below. NOTE: at the time of this article being written, it is unclear if every Reddit user will have this live stream feature appear on their homepage- this is due to the fact that the Reddit Public Access Network is still being tested, prior to full launch. In the meantime, you can satisfy your streaming desires with a potential free year of Disney Plus, more info here.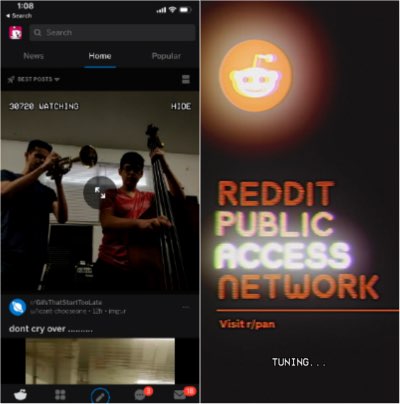 Once you click the live stream video, you will be taken into the Public Access Network through a flashy, retro loading screen that in itself, is fun to watch. You'll then be loaded into the channel you clicked on and the live stream will commence immediately.
In the RPAN UI, you can see the total count of viewers, tap the screen to mute/unmute audio, upvote and downvote on the sides, and swipe left/right to go to other RPAN streaming channels. Selecting the chat button below the video will open an overlay chat box where you can comment in real-time with other Redditors about the video. This is, of course, where all the funny business goes down.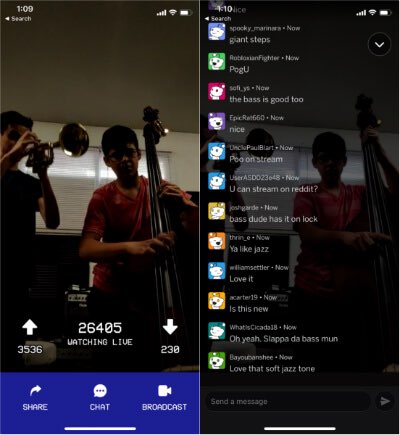 How to start your own broadcast stream on the Reddit Public Access Network (RPAN)
To start your own broadcast on the Reddit Public Access Network, all you need to do is tap the 'broadcast' button on the bottom right of the PAN channel that you're currently on. At the time of this article, it appears you can only start a broadcast on the RPAN from a mobile device. If your phone camera is hot garbage but you don't have the funds for a new one, there are multiple ways to win smartphones online.
Once you select to start your broadcast, Reddit will prompt you to allow access to your camera and microphone. Once allowed, you'll start up your own channel! Because the Reddit Public Access Network is so new, many users are finding that they are presented with an error message that reads: 'sorry, broadcasting has limited availability right now'- this is presumably because Reddit can only handle limited broadcasts at one time. Though, the error message also says to 'try again in a bit', which alludes to the fact that this feature will be back again soon for you.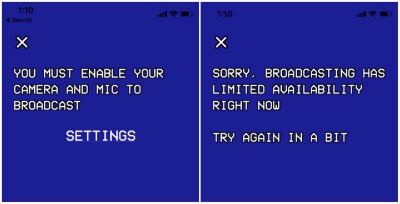 To learn more about the Reddit Public Access Network, head over to the r/pan community and get involved! This is a great feature that could provide value to viewers and creators alike. If the Reddit Public Access Network is introduced full time, this could revolutionize the way businesses set up their marketing funnels, not to mention all the brand awareness opportunities for influencers and the like.
If you found this Mod useful, you might also enjoy learning about these 5 ingenious apps that are making our world a better place. Please share this Mod using the social media icons below and if you have any questions or comments, let us know on Twitter!