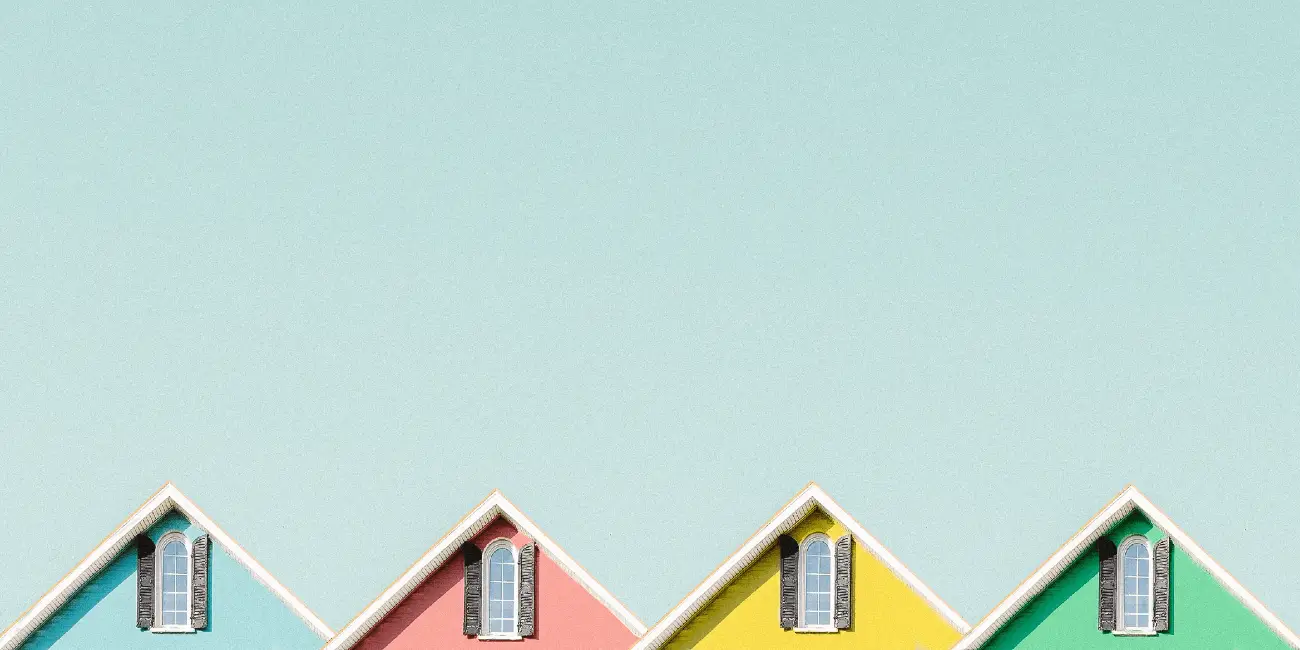 Tips for Successful Real Estate Social Media Marketing
Do you know how to use digital marketing, especially social media, to increase your real estate brand's sales?
Many real estate agents might think that there is no point in using social channels. But believe it or not, social media is playing a significant role in people's choices in the real estate industry. If you want to embark on social media marketing, you have to establish a strong strategy. In this post, I'll provide you with several important and easy tips for building a real estate social marketing strategy.
1. Define realistic objectives
Before posting on social media channels, you need to determine what exactly you want to achieve. For example:
Building a real estate community in your region.
Increasing brand awareness.
Finding new prospects.
Driving traffic to your site.
Increasing your sales.
Having a set of realistic objectives helps you stay focused and avoid wasting your time and money. Of course, you need to consider suitable metrics to be able to measure the results and find out how well you have performed. In fact, without a good benchmark, you can't figure out the effectiveness of your activities.
2. Have a posting schedule
One of the most important matters in social media marketing is consistency. In other words, you need to have a consistent social presence to make your audience remember you. Posting at the best times helps you to appear consistently and put your brand in the eye of the majority of your niche audience. Try to use social media scheduling and automation tools to post at the best times and get the maximum exposure possible. Here are several top social media scheduling tools to try:
SocialPilot.
Hootsuite.
Buffer.
Sendible.
Agorapulse.
3. Create a unique style
Another influential factor is the style of your posts. When you post with certain colors, backgrounds, themes, and tone of voice, your audience will recognize your brand after a while. This helps you to be discovered on the explore page and get higher engagement rates. You can also get feedback from your audiences to know if your style is of their interest. This helps you to strengthen your friendship with potential clients and convert them into loyal customers.
4. Educate your real estate audience
Content creation is at the heart of your marketing strategy. You might think that content generation is only posting some pictures and videos, but if you want to compete with countless competitors on social media, you have to provide something different. Remember that many social users are looking for information on social channels. For example, real estate audiences might be willing to know the newest trends in prices, the best regions for investment, the best time for buying and renting, renovation tips, saving energy guides, etc. If you want to gain the trust of your audiences, providing them with informative content is one good way. This can also help you appear like a thought leader and strengthen your brand identity.
5. Create a set of real estate hashtags
Hashtags can bring higher engagement rates to your content by facilitating discovery on social media. In other words, if a real estate audience wants to find a piece of specific information, they use hashtags to find related content. You have to try to guess the best hashtags to put your content in their eyes. In fact, hashtags are the best tools to be discovered by both buyers and homeowners. You can use hashtag creator tools to create a set of useful hashtags for your brand. Try to have both niche related hashtags and branded hashtags. For example, if you're running a business related to condo assignment resales in Canada, the following hashtags can be good:
#Condo_Canda
#condo_resale
#condo_assignment_resale
Try to cover all possible phrases to get maximum exposure. If you're a beginner in this career, you might need to use the maximum number of hashtags allowed on each platform.

6. Leverage testimonials from previous customers
Bear in mind that an organic endorsement from real customers can work miracles. Never compare the result of testimonials from your previous customers with paid advertisements or sponsored posts by influencers. You can also reach out to your current customers and ask them if to provide you with customer testimonials. You can use graphic tools to make high-quality pictures from these testimonials. Of course, videos are far better and can bring high engagement rates to your posts.
7. Do not forget the power of reviews
Strengthening your brand reputation is not something you can ignore. One good way to do that is by reviews on high-DA platforms like Zillow. If you want to be respected by your audience, you need positive reviews by niche experts and even previous customers on such platforms. You may also need to perform sentiment analysis to track positive, negative, and neutral comments.
8. Use top real estate applications in 2021
As a real estate marketer, you need to use the best and the most recent tools in this area. Real estate applications get millions of visits every month because they provide users with unique facilities. So you need to be active on these tools to be aware of real estate audiences' activities and what they're looking for. Here are 5 of the best real estate apps for 2021:
1. Zillow
2. Xome Auctions
3. Redfin
4. Trulia
3. Realtor
9. Use social media polls to build engagement
One of the boldest aspects of social media is that people can easily interact, and this is exactly why social media is on the rise. So it would be best to give people a say in everything. This might have several advantages, including higher engagement rates. Try to frequently ask engaging questions using social media polls and get your audiences' opinions. LinkedIn for example has a great online poll feature by which you can easily get the opinion of your audience and also increase your engagement rates.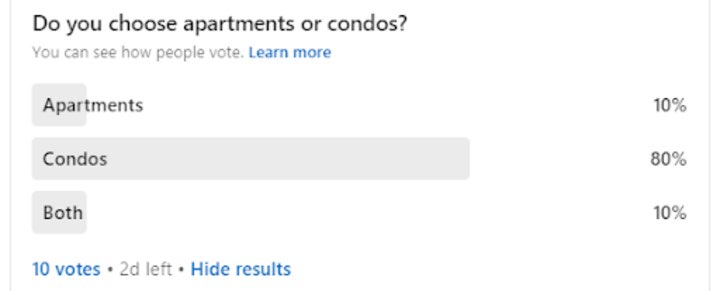 10. Use Live videos to increase transparency
Social media users like to engage with accounts that are similar to them. In fact, the more you look like a human, the better. Live video features on many social platforms such as Instagram help you appear more transparent. This is something your audience will definitely like. Try to have frequent Live videos to let them know you're just like them. Try to avoid being too promotional because they might be bothered by that.
11. Stay connected with local accounts
If you have a local real estate business, you'd better collaborate with other local business accounts to increase your brand awareness. For example, plumbers, electricians, and other relevant businesses can greatly help you to be discovered by their audiences. Of course, they will also take advantage of connecting with you. Share for share, like for like, and similar strategies can be useful in this regard.
12. React to the neighborhood's matters
If you want to get the attention of local customers, you need to show how important local events are to you. Try to react to every important local matter and make people believe you're part of their city culture. For example, you can talk about any new public buildings that are being constructed in your vicinity. You can also show your concern about the bad conditions of historic buildings in your city. You can also ask audiences to send UGCs to inform you of any issues in the city and get the attention of people to your account.
13. Use A/B testing
A/B testing is when you change a specific element in a social post to know which one influences better on your audiences. This is a great method to figure out the interests of social users and optimize social media marketing accordingly. Here are several types of social media A/b tests.
Changing the hashtags.
Changing pictures with videos.
Changing your tone of voice. For example, conversational instead of formal.
Changing emojis.
Changing the length of the caption.
14. Leverage the power of influencers
Influencer marketing is now one of the most effective means of increasing brand awareness. More than 70% of marketers believe influencers can bring a high ROI for their businesses. Real estate industry is no exception and you can take advantage of collaborating with influencers. Of course, it might cost you but you can expect a good conversion. Try to recognize the best real estate influencers in your region and start working with them.
Designers, architects, engineers, and any other person who have related and engaged followers on social media can help you in this regard. If you have a problem with the rates, you need to start with Nano-influencers. However, in the pandemic, many influencers have cut their rates and this can be an opportunity to partner with them.
The bottom line
Several applicable tips regarding real estate social media marketing were presented. Of course, to become successful in marketing, you need to analyze your performance and optimize it. Remember that no strategy remains good for eternity, so try to regularly revise your marketing strategy to get ahead of this competition!
If you enjoyed this Mod, you might like to read more about these 7 Templates for the Hardest Work-Related Emails! Please share this Mod using the social links below. Any questions or comments? Let us know on Twitter!