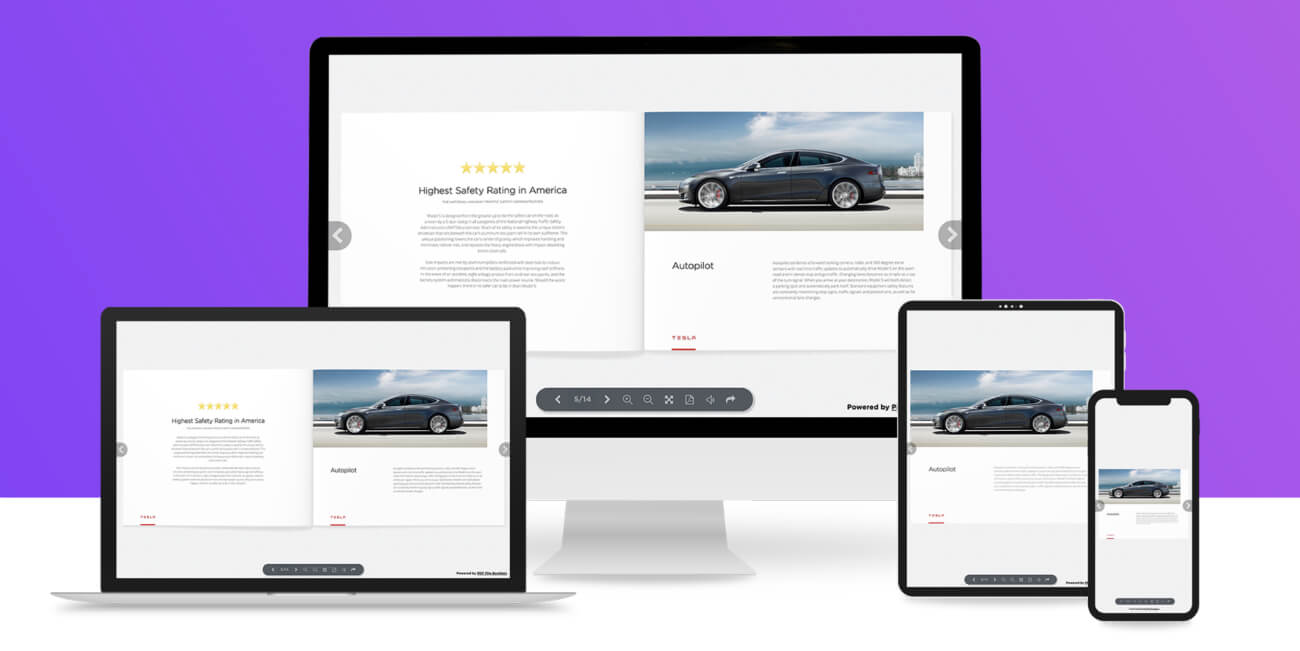 How to Create a Digital Flipbook from a PDF (for Marketing, Guides, and More)
When you need that next level spread of information for a product or service, a flip book is the way to go..
In case you're unfamiliar, flip books are a great way to share any kind of information in the form of a storytelling experience. Sales pitches, product reviews, guides, even classroom assignments that involve any amount of reporting, can be amplified through flip books. Traditionally, flip books have been used for creating life-like picture animated cartoons, but with the power of technology, they have transcended into an extremely powerful tool for marketing and professional purposes.
Unlike those cartoon flip books you may have heard of, digital flip books allow companies to create beautiful, interactive displays about their products and services. In fact if you've ever been to a museum, many of the exhibits have virtual flip books that tell the story of an artifact, person, etc. Tap the arrow to see the next slide, swipe for next page, etc. With digital flip books (especially for marketing purposes), come several key benefits:
Digital means they can be sent to anyone through the web.
Real time ability to make updates, without needing to recreate an entire book.
Staggered virtual "pages" means you can tell your audience a story, instead of throwing all of the information to them at once.
If you're still unclear on what a digital flip book looks like, have a look at this example of the Tesla Model S.
The example above is from a company called Flip Booklets, and they've taken the next step in creating an easier path to virtual flip book creation, by allowing direct PDF uploads. Upload a PDF (minimize it first, if possible), and within seconds you'll have an interactive flip book. By allowing PDF upload, Flip Booklets has simplified the process of creating these visual marketing tools 10-fold. For companies who already have PDF spreads of their investor pitch, sales pitch, or product walkthrough, a simple drag and drop will create a fully immersive flip book (though it might need some tweaking), and take your presentation value to the next level.
How to create your own flip book from a PDF
The first step to creating a virtual flip book is to have a high quality PDF of your product or service, fully customized from front to back. Each page of the PDF should have clear information and graphic illustration, that leads readers to the next page, and so on. The PDF should be high quality and at least several pages, in order to give the flip book a richer experience. If your presentation is in a different format, there are plenty of ways to convert to PDF.
Once your PDF is in top shape, head over to the Flip Booklets website, sign in/create your account and upload your PDF. After a quick upload, you'll get a custom URL that opens up your flip book, as well as an embedded code, if you prefer to place the flip book on your own website.
Unlike many other flip book services, Flip Booklets will stay optimized for any device size, preserving the experience for readers. Like standard PDF documents, zooming in and out (scaling) is preserved, so long as the assets in the PDF support scaling. Unlike scaling for social media graphics (for videos, etc), Flip Booklets will always make sure that the presentation is high quality and fits on any size screen.
Flip Booklets has a completely free plan, with online flip book creation (no download needed) being their main service, but also additional upgrade options for the hardcore flip booker- such as embedding options, background customization, removed branding, and more. You can check out their pricing page for more info!
Conclusion
With the majority of work being done from home these days, technological one-ups can really help a brand or company stand out. If you've got a user guide, product feature list, investor pitch or any other type of long-form, graphical content, consider turning it into a flip book. You might just flip some leads.
If you enjoyed this Mod, you might like to read more about how to write copy that converts leads! Please share this Mod using the social links below. Any questions or comments? Let us know on Twitter!