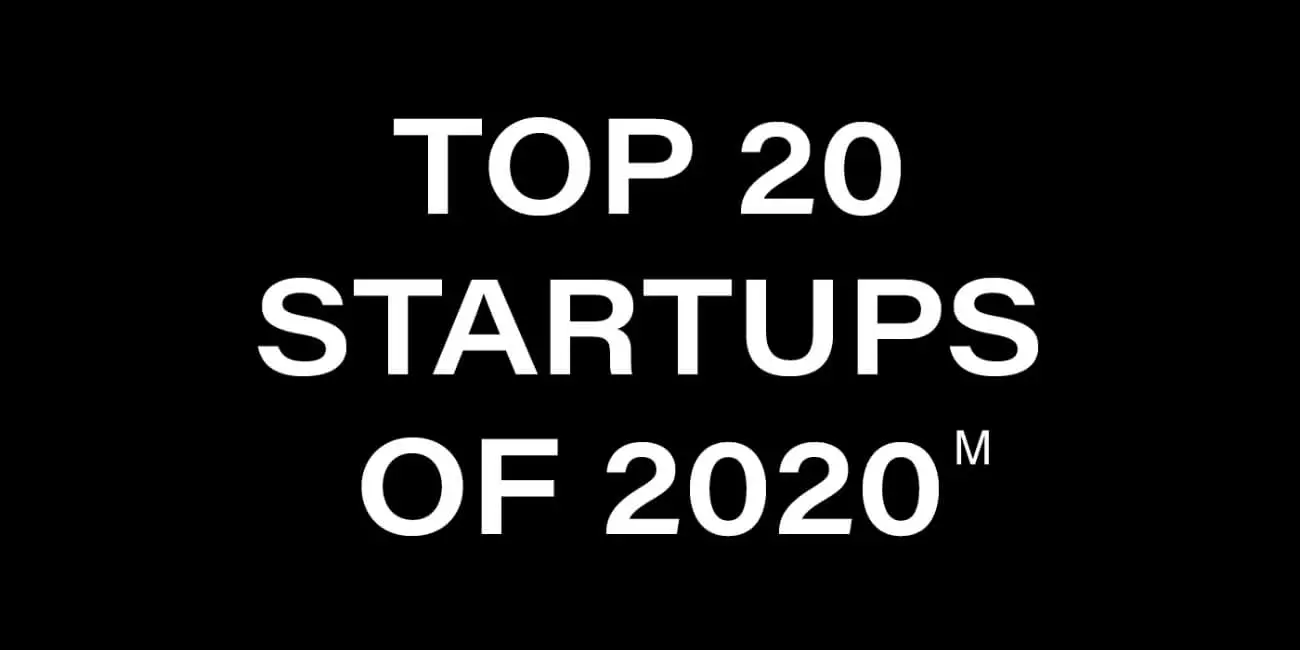 Top 20 Startups of 2020
2020 has been nothing short of a challenge, yet some businesses have found stable footing in the value that they provide to customers..
As American-British investor John Templeton once famously stated- the best opportunities come in times of maximum pessimism. Calming idea but difficult to embrace when the pessimism is at your front door. In light of the COVID-19 pandemic that has ravaged our world, halted entire industries and resulted in millions of deaths (literally and economically), much of the business world has become skeptical and; in reaction, withdrawn certain risk behaviors like innovating and investing.
However, despite the trend, there exist companies that have taken grasp of this uncertain time, buckled down on their operation and found a way to endure, if not grow even more. It's these companies (both startups and established) that I want to highlight today. If they can do this well today, imagine what they'll be doing tomorrow. Here's our top 20 startups of 2020!
1. Phonic
First up on our top companies of 2020 is next-level survey software Phonic. With their revolutionary voice and video survey features (among others), they are radically redesigning the way that online surveys are conducted. They've had PR on Techcrunch and are already integrated with top educational institutions around the United States like Stanford and Cornell. You can learn more about Phonic as well as how to level up your own survey strategy, in this article.
2. The Closing Docs
Identifying a problem and providing a solution is the core of every great company's value proposition, which is exactly what The Closing Docs is doing for landlords and property owners. With their software, landlords can easily verify tenant income without having to spend a copious amount of time managing multiple reports. Their platform is very user friendly and trustworthy- a key factor when handling finances. It's a tenant application software that I personally will be using when I rent out my condo next year!
3. Iowa Solar
No list of forward-thinking companies would be complete without alternative energy sources, which is exactly where Iowa Solar shines bright. Servicing the Iowa/Illinois area, they have designed an extremely cost-effective solar panel solution for homeowners and businesses. They also provide installation and maintenance, truly bringing the cost-to-value ratio of solar energy down to consumer level. Not to mention, there are tax benefits associated with solar energy that both homeowners and businesses should take advantage of.
4. CornerNook
Work from home is seemingly the new norm around the world, with many organizations allowing for full time WFH accommodations for the foreseeable future, even after the global pandemic. CornerNook saw the value in this change of work-life, and began offering equipment and furniture that every home office needs to be functional and comfortable. From ergonomic chairs to electrical components, you can bet that they have all the home office equipment you need.
5. Cover Video
Our 5th startup to highlight has a unique backstory- founder and developer Nicholas Treybig had spent copious amounts of time applying for various jobs at companies like Amazon and Google, going so far as to create custom cover letter-videos to enhance his applications. He realized the struggle with creating multiple videos and thus, created a simple solution for applicants and employers alike. Covervideo.com is a key-protected cover video sharing web service that helps companies interview and hire candidates more readily and safely than ever before.
6. See Inside Media
2020 has been an eye opener to many industries of the possibilities that come with virtual reality and 3D user experiences, and founder David Schanen has been well aware of these possibilities since 2018, when he formed See Inside Media. This company provides virtual, 3D tour technology and has an existing market foothold in the real estate and music industries, with virtually every market an option in the foreseeable future. They are currently exploring volumetric video productions, which will allow for virtual reality live-stream experiences. A business to surely keep an eye on!
7. All About PDF
If there was one business that cares about your digital documents more than anyone else, it's All About PDF. Founder Steven Amani has designed a suite of features that allow anyone to become a master of the portable document format. From PDF expiration dates, online file conversion options (in browser as well as downloadable software), PDF merging, not to mention a relatively new feature- DRM (digital rights management) to protect the monetary value of your documents, Amani and team are looking out for your digital documents in ways most don't even think about.
8. BrandLume
It's no surprise that there is an abundance of digital marketing solutions available on the web, so how can someone possibly explore them all? BrandLume has the answer- They provide expert-level services for every area of your business. Think of them as a one-stop-shop for all your digital marketing, branding and website services. They have been helping build businesses from the ground up since 2011! BrandLume offers wholesale prices and no-contract-needed consultations (among other features) for all digital marketing needs under the sun.
9. Emi
Being stuck at home for days on end has been a testing ground for relationships around the world, which is exactly where the Emi App has stepped up to the plate. They offer a simple yet valuable set of relationship exercises that are designed to rekindle and strengthen relationships with your significant other. The best part- it's intuitive and easy to set up, with the premise being that you won't have to take time out of your busy day to focus on relationship tips- Emi will do all the reminding for you!
10. Pry
Budgeting can be a sensitive subject for bootstrapped startups (or any company for that matter) but that doesn't mean there isn't value in planning ahead. Pry Financials makes it simple for companies to manage their budget, hiring plan, financial models, and cash runway. Their cloud-based platform allows for live, team collaboration and encourages a positive mindset with its clean and intuitive finance planning dashboards.
11. Finally
Unlike business finance, personal finance is a much more intimate topic to digest, with the majority of decisions based on personal goals and current economic conditions. Finally is (finally) providing a solution for the individual, by creating educational material about which financial options are available, and then automating financial portfolios based on the individuals goals' and desires. Not to mention, they offer financial advising for a fraction of the cost.
12. NITL
So much of our news media today is fluffy and misleading, which fuels and perpetuates the concept of fake news around the world. NITL (News In Three Lines) is solving this problem by objectively scraping the facts out of current news articles and presenting them to readers in just three lines. From there, the viewer can decide whether they want to read the full article or not- an important decision that is often swayed by how clickbaity the title is, but no more!
13. Intervue
In our exceedingly technological world, software developers are becoming the builders of tomorrow, but it can be difficult to properly assess the skill that a developer has, especially in remote working conditions. Intervue has arisen to this challenge by offering an immersive, live coding environment for employers and applicants to assess technical capabilities in real time, with video chat, multiple compilers, loggable interview notes, and more. Hiring quality developers is now much easier!
14. Palabra.io
Email automations are the bread and butter of a hands-free digital business or service. The Palabra.io team has created a platform that allows for complete landing page optimization, allowing users to define how customer contacts are collected, when to engage with them (down to the minute) and write copy in advance. All that's left is to connect Palabra to your site and your email automation workflow is live!
15. Flip Booklets
Digital presentation is vital in todays world- portfolios, landing pages, all seeking to educate the user in the most innovative way possible. Flip Booklets allows users to upload any PDF document and turn it into an interactive, digital flip book (like the ones you'd find in stores). These books are a great digital marketing tool for 2021 and beyond!
16. Wiza
Linkedin poses a lot of opportunities for customer leads, but it can be tricky to navigate their UI and pull meaningful (email) contact infos. The Linkedin Sales Navigator tool can help with this, but even it has limitations; specifically, the amount of time it takes to scrape contacts. Wiza is a tool that allows you to quickly export Linkedin contacts and even vets the users for quality. Getting leads on Linkedin doesn't have to be a painful process!
17. Twisted Road
Despite the stay-at-home protocols enforced by many governments in 2020, travel enthusiasts are still finding time to get out of their homes and hit the roads. Twisted Road is essentially Uber for motorcycles specifically, and it allows users to list their bikes or rent from others. Vehicle renting apps are a hot commodity, plus we won't be in lockdown forever!
18. Earned Value App
Tracking a projects budget involves more than just a projection and some receipts, especially if the project has many moving pieces (as most organizations do). The Earned Value App leans on the earned value mathmatic formula, which helps identify potential financial issues that could lead to overspending, before you get there. Budget tracking apps are critical to monitoring a projects financial success.
19. Video Jaguar
Like mentioned before, video content will likely see an upswing in 2021, so businesses need to get ahead of the curve and adapt. Video Jaguar is a video template tool that has simplified video creation to the point where all users need to do is choose a format, upload text, and the platform will do the rest. Video content marketing in 2021 could be the difference between a positive and negative impacting campaign!
20. Lionshare Digital
Digital marketing is a diverse beast, with various potential avenues to explore. However as most business owners know, time is never on their side. Lionshare Digital is a full stack digital marketing agency that creates everything from websites to brand bibles, and has a long track record of serving professionals in the creative (among others) field. Building an effective website could be the start of something great!
21. EXTRA: GMASS
Last on our list is the GMASS service, a plugin for Google that helps automate email workflows right from within Gmail. This plugin is versatile and constantly updated with new features. In fact, it's one of the several tools that our team at Millennial Moderator relies on! Check out our Tools page for more information.
Conclusion
As we wrap up a rather tumultuous year, we reflect on the companies that have given us value in times of uncertainty. This list is surely not collectively exhaustive, but it does highlight some startups that we believe will be paving the way for businesses in 2021. Have a great rest of 2020 and we'll see you in the new year!
If you enjoyed this Mod, please sign up for our exclusive newsletter, where we share the latest Mods, tips, and more! Please share this Mod using the social links below. Any questions or comments? Let us know on Twitter!